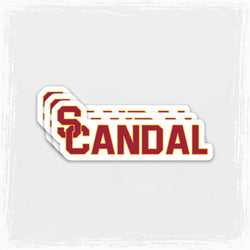 Waiting for the next USC scandal to drop already? We've got you (and your laptop, water bottle, or whatever your heart desires to sticker) covered with our limited-edition SCandal Sticker Pack. Deck out your laptop for Zoom University and have some left to share with your friends.
Our stickers are:
- In a pack of 3
- Water, scratch, and sunlight resistant
- Thick and durable for a long-lasting accessory piece
100% of proceeds from this item go to our Teenage Mental Health partners in Los Angeles.
My favorite stickers ever
Apart from being hilarious on the wordplay, my friends can't get enough of them. Similar to how USC can't get enough of their scandals. ;)